Welcome to Weed Orchards and Winery
A Pick-Your-Own Farm and Winery in the hills of Hudson Valley, New York.
Visiting Rules & Regulations
Customers can now order online and stay at the winery to eat and enjoy the property. We are very eager to begin this new phase, but we will have a list of Rules and Regulations we ask everyone to follow:
All guests ages 2+ are required to wear a mask and to practice social distancing.
There is a strict no sampling policy. Customers are prohibited from eating produce in the field before it's paid for. 
No outside food, drinks, coolers, or back packs.
There will be no playground, corn maze, or hayrides rides.
Customers will be allowed to sit in designated seating areas, the rest of the property will be closed to the public.
Ordering food/drinks when you arrive will be an available option, but we encourage customers to order ahead of time via phone or our online menu.
Weed Orchards & Winery reserves the right to ask any customer not willing to comply with these rules to leave the property.
In compliance with food safety laws, we are only able to allow leashed service dogs on the property at this time. No other dogs are allowed on the property.
Due to Coronavirus, we will not be accepting bus groups. All buses will be turned away.
These are unprecedented times for all of us. We ask our customers to be mindful and patient as we work hard to make sure your visit to Weed Orchards & Winery is as enjoyable and safe as possible.
Pick-Your-Own this Weekend
This weekend we have limited quantities to pick:
Yellow PeachesDonut PeachesEggplantSummer SquashPeppers and Zinnias
Live music is back this weekend at the winery from 1-4pm.
August 8th: NIK RAEL August 9th: Bruce Perone
We are offering a 1 hour all levels vinyasa yoga class. $12 per person
Saturday Aug. 8th-8:30AMAll Levels with Beth
Saturday Aug. 8th-9AMAll Levels with Pattie
Weekend Outside Dining 11-5
Outside Dining & Pick-Your-Own: Saturdays & Sundays 11am – 5pm
Please be sure to check your email or spam folder for a confirmation email to ensure you receive our newsletters
From summer through fall, our Pick-Your-Own farm offers 40 acres of  vegetables, fruits, and flowers including plums, nectarines,  green beans, peaches, zucchini, eggplant, pumpkins, zinnias and 15 varieties of apples. Our picking season is paired with festivities every weekend such as hayrides, live music, and  barbeques!
Our Tasting Room and Cafe carries a variety of our own HomeGrown Hard Ciders and Wines as well as NY State craft beers. Pair your favorite drinks with farm-to-table selections from our menu. In the warmer months, be sure to stop by for our refreshing Wine Slushies. *Winery open weekends only unless specified.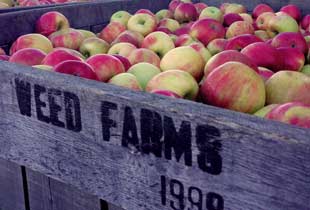 Weed Orchards is a 5th generation family-run farm.  Established in 1913, what  started out as a traditional fruit farm, expanded into a 40 acre Pick-Your-Own and winery. Nestled at the base of the  mountains in Marlboro, NY, Weed Orchards is approximately 60 miles North of New York City.
Host Your Event at Weed Orchards
Next available bookings are for March 2021. We are currently not booking events for 2020.