Winery Hours:  Sat: 11-6   &  Sun. 12-5pm. Peach Picking: Sun-Fri: 11-5 and Sat: 11-6
Welcome to Weed Orchards and Winery
A Pick-Your-Own Farm and Winery in the hills of Hudson Valley, New York.
• Peaches are 3.49/lb or 2.99/lb if you pick a full box.
• We will be serving lunch from 11:30-3pm with a limited menu of Traditional Pizzas, Pepperoni Pizza, Hot Crispy Chicken Sandwich, and a Peach Burrata Salad.
• The bar will be open serving beer, wine and cider from 11:30-4:30.
• Wifi is available inside for guests to use with a purchase.
• The property closes promptly at 5pm.
Peaches are ready to pick! Peaches are $3.49 per pound. Full box price is $2.99 per lb.Sun-Friday: 11-5, Sat:11-6 There is no admission fee on weekdays!
$10 per person. Every weekend through August, we'll be celebrating peach season with Live Music, Peach Picking and Peach food and drink specials.
7PM :
$20 per person. Drop in only- no pre-registration required. Bring your own mat. Weather Pending. Follow Aimee on Instagram (below) for updates.
Intuitive Medium Deborah Hanlon
6pm- 8pm
$60 per person. Doors open at 5 to order food and drinks. Readings are not guaranteed but it will be an event you don't want to miss!
From summer through fall, our Pick-Your-Own farm offers 40 acres of  vegetables, fruits, and flowers including plums, nectarines,  green beans, peaches, zucchini, eggplant, pumpkins, zinnias and 15 varieties of apples. Our picking season is paired with festivities every weekend such as hayrides, live music, and  barbeques!
Our Tasting Room and Cafe carries a variety of our own HomeGrown Hard Ciders and Wines as well as NY State craft beers. Pair your favorite drinks with farm-to-table selections from our menu. In the warmer months, be sure to stop by for our refreshing Wine Slushies. *Winery open weekends only unless specified.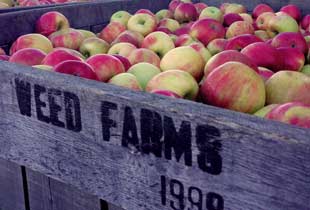 Weed Orchards is a 5th generation family-run farm.  Established in 1913, what  started out as a traditional fruit farm, expanded into a 40 acre Pick-Your-Own and winery. Nestled at the base of the  mountains in Marlboro, NY, Weed Orchards is approximately 60 miles North of New York City.