Our Pick-Your-Own is constantly growing an assortment of fruits, vegetables and flowers. Our farm also has a playground and backyard dining area. See our picking guide below to find out when your favorite fruits and vegetables may be available.
As of 2020, we have an absolutely no sampling policy. Customers are prohibited from eating produce in the field before it's paid for. Customers must pay for whatever they pick. No dogs allowed on the premises.
OTHER APPLE VARIETIES: $32 per 1/2 bushel or $1.89 per pound(can be mixed with other varieties) Current varieties: Fuji, Rome, Empire, Golden Delicious
ORANGE PUMPKINS .79 cents per pound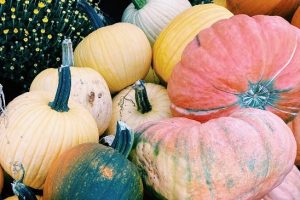 SPECIALTY PUMPKINSspecialty orange, white, yellow, green .99 cents per pound
**Due to Covid related regulations, Hayrides, the Corn Maze and the Playground will be closed until further notice. In compliance with food safety laws, only leashed service dogs are permitted on the property at this time.**
Enjoy a drink or meal from our Winery and Cafe while taking in some Live Music from our talented local artists. Music is from 1-4pm on Weekends.
Settle on a soft patch of grass and enjoy your lunch with a view. 
*Bringing your food is not permitted on weekends. However, there are a number of delicious food options available at our Cafe.
(Weekends Only) During the months of September and October enjoy a large selection of fresh baked goods including fruit pies, apple cider donuts, breads, cookies and turnovers.